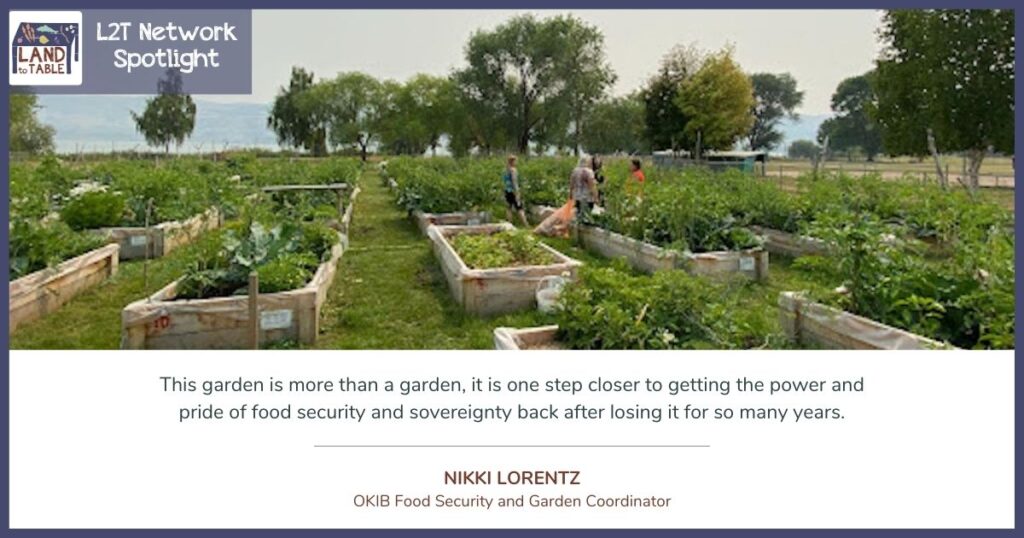 Sometimes it just so happens that you meet the right person at the right time and synergies and projects line up as if they were meant to. Through the Regional Community Food Hub funding initiative, in partnership with the United Way, Land to Table (L2T) has the opportunity to partner with organizations like the Okanagan Indian Band (OKIB), to work together to increase access to local food. That is how Nikki Lorentz, OKIB Food Security and Garden Coordinator, and I officially began to work together, and came to write this spotlight feature together.
After many Zoom meetings we finally met at the OKIB Komasket Community Garden on the north west tip of Okanagan Lake on July 15th. This is one of six OKIB reserve locations around the lake that is home to more than 1000 OKIB members. Komasket is a traditional area for fishing and harvesting. Nikki toured us (myself, L2T Steering Committee member Linda Boyd and OKIB Coordinator Meaghan Ryley) around the garden sharing about it's short history and importance to the community.
The garden was built last summer, in an effort to buffer against the impacts of COVID-19, including: empty grocery stores shelves, high produce prices and the realities of lock-down (and needing to protect elders). A garden just made sense for the OKIB Health and Wellness Department. 
After seeing the garden's positive impacts to the community over just one growing season, Nikki was brought on to help grow the garden and expand opportunities for food sovereignty and security. This year they planted 73 organic raised beds, including tomatoes, peppers, hot peppers, squash, radish, spinach, zucchini, edible flowers and traditional plants like tobacco. Nikki created weekly harvest videos to share with the community, empowering folks to come down and harvest from the garden as they wanted – to support the "open gate" access. Workshops such as "companion planting" and "how to compost" were hosted at the garden to further educate the community in building their own food security.
Entering into this position, Nikki shared this perspective: "Throughout history indigenous have been losing their food sovereignty. From basic rights to food access, nutritional experiments done in residential schools, land loss, pollution, along with overall climate change and industrial practices, indigenous communities have felt the direct effects. This garden is more than a garden, it is one step closer to getting the power and pride of food security and sovereignty back after losing it for so many years."
During our visit we saw the power of the garden in action, when an elder stopped by to harvest some vegetables for herself and prunings for her son's animals. She loved to see tobacco being grown and she shared about her experience growing a garden as a young woman. We sat in the shade at a picnic table, sharing lunch and listening to the delight of this elder having a place where she can come connect with her community around food. She talked about the damage of residential school that she personally was spared from, how that history related to the garden space and how food has always played a large roll in indigenous culture through community feasts, hunts and many more cultural practices. We discussed how residential school survivors lacked nutrition and the knowledge of where the next meal is coming from. This elder very graciously shared these thoughts:
 "For this generation [survivors] to have the power of food back is important. Sitting down to a meal is not just nutrition for the body but also for the soul, and that is why food is so important to our people. That is why it is so great to see food being grown and eaten by our people once again".
There are big goals connected to the Komsket Community Garden. From Nikki's perspective the vision includes: supporting the community in creating their own food security and sovereignty; to produce as much nutritious food as possible, year round on OKIB land and for OKIB members; and in years to come, to be able to live off the land once again, to continue to feed the culture through food.
When we met it was a hot and dry summer already but the garden was just ramping up in production. None of us expected the literal firestorm that was coming for this part of the region. Less than 2 weeks after we met, when the first tomato was turning red, the first evacuation alert was announced. The first evacuation order was issued on August 1st. By the end of August the White Rock Lake fire burned down many acres of hunting and harvesting lands, 9 OKIB homes and the Little Kingdom Store—the main reserve grocery store, the place to get staple items like milk, bread and gas. 
On a Zoom chat, Nikki shared that in addition to losing homes and the store, many more homes were left uninhabitable due to smoke damage and refrigerators/freezers that literally exploded open (due to gas build up from rotting meat) as a result of long term power outages. Most of those refrigerators/freezers are garbage. This has meant that many families lost their hunt for the year—all their frozen meat and berries—leaving folks wondering what they will eat over the winter. The community garden was left mostly unattended for 5 weeks!
And so now the community is in recovery mode, cleaning up and getting people back into their homes (if possible), thinking about rebuilding, and thinking about food security in a different context from two months ago.
"When I started this job [with OKIB] all of 5 months ago I thought it would be great to have a garden [to grow what we could and offer workshops and a place to connect], but after this summer and all the climate issues we experienced with water contamination, drought and fires, we are forced out of old ways of gardening and are now needing to find new adaptive ways to grow food, while fighting for the land. With the state of the earth, if we want to live off the land again we need to fight for it!"
---
If you are touched by this story, and the work that Nikki and others are doing at OKIB, please consider making a donation.
Donations to help the community recovery after the wildfire can be made through: recoverymanager@okanagan.org
If you would like to make a donation toward OKIB food security initiatives, including the garden, contact Nikki at: fsi@okanagan.org